Windows and Doors Security Oxfordshire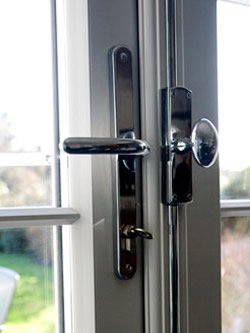 Each door and window supplied by Thame Double Glazing comes with specialist security measures, so you and your family in Oxfordshire can feel secure in the safety of your home.
Our Locking System

The specialist locking system that we use comes with shoot-bolts, located on the bottom and top. This is in addition to a central locking latch and 3 hook locks that face the inside and outside. A firm seal against the weather and increased security is achieved by the 4 further roller cans that are attached.
Your Security Guarantee in Oxfordshire

At Thame Double Glazing, security is a top priority. Each door is equipped with a multi-point system for locking that is cylinder free, along with 15 different lock features. We believe in the security properties of Tricept doors so much, that we offer a £1,000 guarantee in the case of a break-in. If the door fails during the break-in, Thame Double Glazing will pay up to £500 for inconvenience, and up to £500 to replace a forced window, or repair the damage.
Easy to Operate

The design of the locks mean that they are very smooth to operate. The ten different locking systems are controlled by moving the handle into the upwards position and then using the key to lock it in place. This is the same for our specialist French doors and the attached shoot bolt. The slave door can be locked by lifting the handle and securing with the key.
Comprehensive Security

To ensure that no part of the door is left vulnerable, all our doors come equipped with 3 profile related hinges that are designed to provide a high level of security. The protection of your home is significantly increased thanks to the addition of our specialist anti-jemmy claw, and 11 different fixings used to ensure that the hinge is completely secure.
Thame Double Glazing provides a peace of mind, keeping your property safe by securing all sides of your home with 13 different locking sections.