Sliding Sash Windows Oxfordshire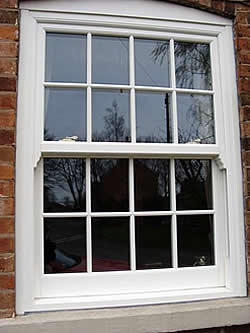 The range of vertical style sliding sash windows we have available at Thame Double Glazing, offers all the beauty of a traditional design with modern day convenience. The windows are built from uPVC, making them strong, durable, free from problems like rot and warping, and void of the need to repaint. Without extensive maintenance, the windows are built to last and not change colour or shape.
The modern benefits of uPVC make the vertical style sliding windows the perfect alternative to traditional timber framed sliders. Offering all the features and style of the traditional materials, uPVC sliders can be installed in period properties or new-builds to add additional character.
Oxfordshire's Top Sliding Sash Windows
A traditional design delivers style, while the modern performance of vertical sliding sash windows offers reliability and low maintenance. Our range of windows are highly energy efficient, weather resistant, and provide security, all of which is designed to last for many years.
Some of the further benefits and features include:
Extensive selections of glass styles, including Georgian bars, and leaded patterns.
Wide range of different designs.
Plenty of colour choices to finish your windows with a unique look.
Optional foil finishes in either a solid colour or with a woodgrain effect.
Oxfordshire's Best Range of Sliding Sash Options
We strive to offer a replacement sliding sash window service to Oxfordshire residents that is unbeatable. Thames Double Glazing provide an exceptional service, offer expert advice, and an incredibly high-quality installation process. These are some of the common things to look for when purchasing sliding sash replacement windows:
How the Georgian bar detail can match the original window style.
Check for the energy efficiency rating of the window. For the best efficiency, choose an A rated window.
How stable the material is, and whether it is capable of lasting the 30-year expectation.
Look at the cill options and proportions available. Stone or hardwood are well-suited to maintaining the period character and architectural detail of your home.
Ensure the proportions match the style and age of your home.
All window profiles are created to match traditional style wood styling.
What Is the Cost?
Every single one of our Thame Double Glazing products are created to match the individual requirements of your home. Final prices can only be given after an evaluation of your new product, but we always adhere to these commitments about costs:
We strive to provide high-quality at the best prices.
There will never be pressure, only assistance and advice.
A quotation that is bound will be provided, ensuring you have complete control and knowledge of the cost breakdown.
Our suggestions are based off our passion of the product, not because of the pressure to sell.
We always price competitively.
With 30 years' worth of experience installing to the highest degree of quality, you can trust us to look after your home.
Our design service is free to all customers.
Similar products that may be of interest, include our range of wooden timber windows, timber alternative windows, and leaded light windows.