Balustrades Oxfordshire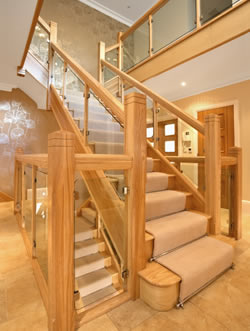 The Balustrades that we have available at Thame Double Glazing, are the perfect way to create a modern new look inside or outside your home. We are able to source and install a large range of balustrade types, all of which are low maintenance, straightforward and fast to install, and the ideal option for commercial and residential properties.
The flexible design of our balustrades enables you to create a seamless design within your home, with multiple components that allow for full customisation. No matter the style of your home, or the age, we have an extensive range of components to perfectly complement your home.
Each component available at Thame Double Glazing provides support, is made from strong materials, and is completely reliable. Our team at Thame Double Glazing will walk you through the entire process, helping you to plan your perfect balustrade in a stress-free way. For more information about our high-quality balustrades, don't hesitate to contact our friendly team.
Benefits and Features of Balustrades
Modern designs.
Exceptional material quality.
A strong install for guaranteed security.
Similar products that may be of interest, include our range of window glazing, emergency window glazing, and balcony glazing.
You might also be interested in our balcony glazing, window glazing or emergency window glazing.