uPVC Windows Oxfordshire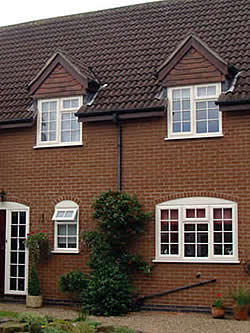 Rotten wood, splintering, and decay, are all common problems of timber framed windows. A wooden window frame needs substantial maintenance must be constantly cared for and painted, before inevitable replacement is required.
Unlike the wooden frames, the uPVC range of products we have at Thame Double Glazing don't need any maintenance further than a simple wipe every now and again to remove dust. With no worries over fading, rotting, or maintenance, your new windows will remain looking perfect for many years.
Not only are they low maintenance, but all windows supplied by Thame Double Glazing come with glass that has low emissivity, an essential inclusion to meet the latest regulations for windows. The design of the glass will also benefit your bank balance, helping you to save money on your heating bills by reducing heat loss.
If you are looking to incorporate a little extra style into your home, our doors and windows are perfect for you. We are confident that we can provide a style that will enhance the external appearance of your home by working with any character features.
What is the Cost?
Every single one of our Thame Double Glazing products are created to match the individual requirements of your home. Final prices can only be given after an evaluation of your new product, but we always adhere to these commitments about costs:
We strive to provide high-quality at the best prices.
There will never be pressure, only assistance and advice.
A quotation that is bound will be provided, ensuring you have complete control and knowledge of the cost breakdown.
Our suggestions are based off our passion of the product, not because of the pressure to sell.
We always price competitively.
With 7 years worth of experience installing to the highest degree of quality, you can trust us to look after your home.