Bespoke Conservatories Oxfordshire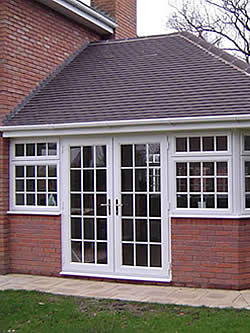 One of the best ways to bring increased light and add more space to a home is by investing in a brand-new modern conservatory.
Adding a conservatory to your home has substantial benefits. Along with the significant increase in space, they're a wonderful way to achieve a warm, relaxing room, especially with the insulation provided by Thame Double Glazing. This makes it the perfect space to enjoy in the warmer months and colder months.
Extensive Experience and a Quality Design
Bring the outside inside and the inside outside with a conservatory that truly compliments the style of your home. With modern designs, traditional designs, and an extensive range of styles, the space can be made uniquely yours.
Choosing to invest in a Thame Double Glazing custom-made conservatory is the perfect way to create a modern living environment. The glazing structure that Thame Double Glazing provides is idea for kitchens, living rooms, studies, and dining rooms.
We take care of every stage of the project, with out professional team ensuring the best quality. Our extensive service is able to include:
Full living space redesign to create the perfect flow from room to room.
All landscaping requirements.
Getting the required planning permission.
Furnishing the interior.
Any building work, like screeding or plastering.
Ceramic or stone tiling.
A design for exterior and interior lighting.
Meeting the required building regulations.
Installing underfloor heating systems.
Making the required heat and structural calculations.
What Is the Cost?
Every single one of our Thame Double Glazing products are created to match the individual requirements of your home. Final prices can only be given after an evaluation of your new product, but we always adhere to these commitments about costs:
We strive to provide high-quality at the best prices.
There will never be pressure, only assistance and advice.
A quotation that is bound will be provided, ensuring you have complete control and knowledge of the cost breakdown.
Our suggestions are based off our passion of the product, not because of the pressure to sell.
We always price competitively.
With 7 years worth of experience installing to the highest degree of quality, you can trust us to look after your home.