Fascias Oxfordshire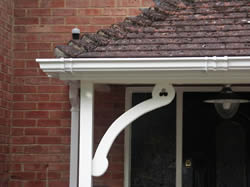 Oxfordshire Fascia Installers
If you're looking to improve the appearance of your home, increase the value, and ensure low maintenance, the Thame Double Glazing range of fascias make a perfect accompaniment to our extensive range of windows.
Our range of roofline products are not prone to splitting, warping, cracking, or rotting, all common problems with timber. The appearance will remain perfect for years to come, a stark contrast from the colour changes that other products suffer from.
The Use of a Fascia
Fascia boards are used to cover the timber joist for the roof. The purpose of a fascia board is to protect your roof and cavity walls from snow and rain. A soffit normally then covers the remaining gap.
The traditional option for most Oxfordshire homes is a timber fascia. However, these require extensive maintenance to avoid common issues of rust, mould, insects, and rust. A Thame Double Glazing fascia will ensure that your property is always looking perfect.
Each of the fascia boards in our range has a 10-year guarantee, along with being built to last and low maintenance.
With barely any maintenance, a guarantee of longevity, and no painting requirements, you can achieve a look that suits you home and reflects your personal takes.
We have a wide range of different finishes and styles available, so you can find the perfect design to compliment the style of your property. For advice and further information about our fascia range, you can contact our team at Thame Double Glazing at any time.
Similar products that may be of interest, include our range of soffits, gutters, and bargeboards.
You might also be interested in our gutters, bargeboards or soffits.