Garage Doors Oxfordshire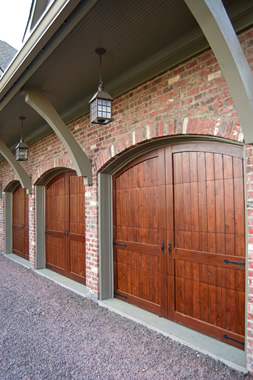 We sell the leading brands of garage door, such as Hormann, Garador, Gliderol, Cardale, Carteck and Wessex in and around Oxfordshire.
Up and Over Garage Doors in Oxfordshire were the popular doors purchased when Thame Double Glazing was established. They still offer the greatest range of styles and finishes and, with improved security and mechanisms, are still a top seller. Up and over garage doors are available in steel, timber, GRP etc.
However, people expect more today and manufacturers have developed their products. The sectional garage door has many advantages to it and, although a little bit more expensive, is very popular, as it offers much higher security, draught-proofing, insulation, more width and height and no maintenance.
Insulated roller garage doors in Oxfordshire
Roller Doors, especially the insulated roller garage door, have become extremely popular. Garages are often used, these days, as tool lock-ups, home gyms, hobby rooms and workshops, so the neat space-saving and secure roller is often the ideal choice. It draught-proofs and insulates into the bargain. Wooden Garage doors are not the rotting, warping nightmare they used to be. All our wooden up and over doors are made from cedar, which is rot-resistant, stable, strong and light. The low cost option of fully finishing means no decorating for approx 7 years years.
Should I have an automatic garage door?
This is dependent on how you use the garage. If it is for a car, then it makes leaving and returning to the property very convenient. It may add value if you intend selling at some stage and they are reliable and quiet. Most of the branded automation kits we sell come with a 5 year manufacturer's guarantee. They use very little electricity on stand-by, and children and older people find an electric garage door simply convenient, especially if the door is heavy or large.
If the garage is simply for storage and never sees a car, and you prefer simplicity and want to respect the environment, then staying manual may be the best option. Retractable up and over garage doors, sectionals and most roller doors can always be automated at a later date.
Garage doors Oxfordshire brochure downloads
Click to download our roller garage door brochures.
Some of the other types of doors we install include; composite doors, patio doors and timber doors.