Timber Alternative Windows Oxfordshire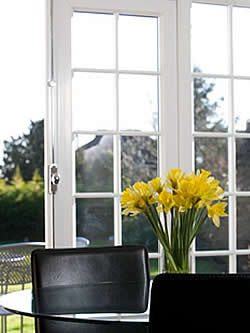 Oxfordshire Timber: The Reality
Timber is a highly desired material for homeowners in Oxfordshire, but often, modern high-performing timber framed windows are too expensive for most budgets, especially compared to the alternative window materials on the market, like uPVC.
While timber framed windows have a good warranty and great features, the maintenance required to take care of alternative materials, like uPVC, is significantly lower.
To fill the gap between the great appeal of timber and the low maintenance of uPVC, timber alternative windows have become a top choice. These create a fantastic kerb-appeal, look great internally, and are incredibly similar in appearance to traditional timber.
The Alternative Timber Concept
In order to create the alternative timber effect, woodgrain foil is applied to each side of the profile of the window. Normally in white, this is a grained type of foil. It gives the window texture, and an overall appearance that is very similar to the expensive timber hardwood frames available.
When you look at the finished result, you can see the grain clearly on the frames. From further away, the foil gets rid of the shiny look that often accompanies uPVC, creating a stunning kerb-side appeal.
Alternative Foil Types
White foil, whilst popular for alternative timber frames, is not the only colour of foil that you can choose from.
There is an incredibly extensive range of different foil colours, including black, green, grey, and cream. You can also make use of the professional colour-bonding process of uPVC and any of the RAL colours available. This means that you can match the colour of your windows with the style of the interior and exterior of home exactly.
A Choice of Timber Stains
As well as providing grained alternative timber windows, at Thame Double Glazing, we also provide a range of stained alternative timber windows. Darker rosewood, Irish oak, and light oak foils, can all be used to create a different external look, with the internal still be able to utilise the white foil or colour-bonded white foil.
Range of Window Shapes
For more customisation on top of the grained foil that we can apply to alternative timber windows, you can choose from our range of ornate or putty line window profiles. This means that we can duplicate the appearance of older timber windows, or create a style that you love, to perfectly match the style of your home.
Different Methods for Construction
The look of the timber can be enhanced even further after you have picked a shape and woodgrain effect that match your home.
We can remodel the uPVC grooves, so that they don't look like standard uPVC windows. To match the traditional timber even more, we can further alter the uPVC by mechanically jointing the horizontal transom and vertical mullion sections.
Window Sightlines
An even glass sightline can also be achieved on the alternative timber windows by using dummy sashes. This is one of the best choices in terms of creating that traditional timber appearance that will look great on your property.
Traditional Style Handles
The final flourish for any alternative timber window, is to add the handles, essential for ensuring your new windows really standout. We have a great range of handles at Thame Double Glazing, with our monkey tail handle being one of the best looking and affordable options available.
The Benefit of the Alternative Material
There are a large number of ways that you can customise the appearance of your new alternative timber windows, from adding a woodgrain and the perfect handle, to having different coloured foils on the inside and outside of your property. Whether you opt for simple changes, or larger ones like mechanical jointing, timber profiling, and even sightlines, you can always be sure that your frames will be incredibly secure, very low maintenance, and able to minimise heat loss.
Similar products that may be of interest, include our range of aluminium windows, uPVC windows, and sliding sash windows.