Aluminium Windows Oxfordshire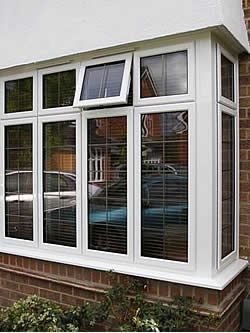 The high-quality range of Alitherm windows we have here at Thame Double Glazing exceeds expectations in areas of maintenance, comfort, insulating properties, security measures, and external and internal appearance. Choosing a Alitherm window is making an investment in a top of the range system, designed to be stress-free.
No matter what kind of home you have or your personal tastes, Thame Double Glazing can provide you with a window that fits your needs. With vast options for colours and finishes, such as our stunning range of rich oak, internal white, and beautiful mahogany, your new window is designed to be unique to the style of your home.
There are many additional benefits of choosing a window from the Alitherm range, including the specialist design to reduce the loss of heat in a home, achieved by using a polyamide bridge in conjunction with an aluminium frame that is thermally broken. From the inside frame to the outside frame, the heat resistant properties of polyamide bring extensive benefits. The main benefits of a frame that is thermally broken, include:
Additional comfort and warmth inside a property. The thermal efficiency of a Alitherm window will help to reduce the amount of energy your home wastes, providing savings on your bills.
A beautiful and elegant finish with stunning slim sightlines. The design of Alitherm windows includes an ovolo, this is a square or chamfered profile edge. There are also a wide range of colours to choose from, along with the option of dual colours and internal and external finishes.
Peace of mind with a durable and long-lasting material. Alitherm windows are incredibly strong, being one of the best windows to choose for the structure and safety of your home.
What Is the Cost?
Every single one of our Thame Double Glazing products are created to match the individual requirements of your home. Final prices can only be given after an evaluation of your new product, but we always adhere to these commitments about costs:
We strive to provide high-quality at the best prices.
There will never be pressure, only assistance and advice.
A quotation that is bound will be provided, ensuring you have complete control and knowledge of the cost breakdown.
Our suggestions are based off our passion of the product, not because of the pressure to sell.
We always price competitively.
With 7 years worth of experience installing to the highest degree of quality, you can trust us to look after your home.