Glass Cutting Oxfordshire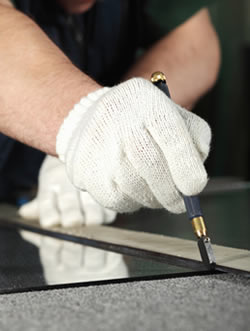 No matter you glass cutting requirements, Thame Double Glazing are on hand to help. An extensive range of mirrors and glass is always available at Thame Double Glazing, so we can quickly cut the glass to your design with a guaranteed perfect fit.
In the Oxfordshire area, we have multiple shops for glass cutting, so we can cut your glass straight away while you wait. We can cut glass for commercial customers or for individual customers, our speedy process allowing us to provide exceptional quality at an affordable price for all projects.
Every member of our professional glass cutter team is highly trained and experienced in ensuring the best results with an unbeatable quality of customised services.
Benefits and Features of Glass Cutting
Each design is exacting to your requirements
We stock an exceptional range of glass and mirrors.
The process is straightforward and speedy.
Similar products that may be of interest, include our range of glass polishing, glass cutting, and stained lead glass.
You might also be interested in our stained lead glass, textured glass or glass polishing.