Choosing a Conservatory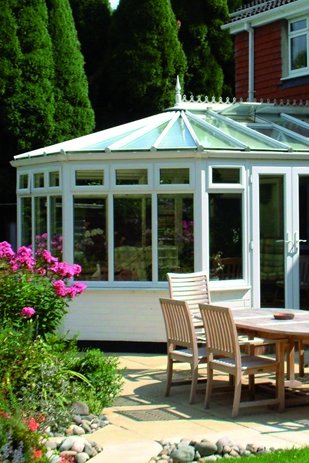 The process of purchasing a conservatory on a budget is very different to buying other products on a budget, like a new kitchen. When you buy a new kitchen from a DIY store, you can enhance the appearance with other products, like new worktops and appliances. The end result will mean that your new kitchen has an appearance and performance that far exceeds its initial value.
The process of buying a new conservatory is not the same.
Budget conservatories cannot be made to perform or look better, often, they will reduce the value of your home rather than increasing it, making your property harder to sell. Conservatories that retail for a low price are normally so low because they are not properly designed, equipped, or well-suited to creating a great home environment. A new conservatory provides a lot of potential for a home, but only when the conservatory is designed right.
Many problems can occur with poorly constructed conservatories, as the majority of structures don't have to adhere to any regulations for building. Subsidence or even movement of the structure, can be the result of incorrect foundation depth. There can also be issues with temperature regulation – conservatories fitted with poor floor insulation, or no insulation, can be incredibly cold.
A properly designed conservatory should be able to be enjoyed all year round, no matter the weather, temperature, or season. They can be one of the best rooms in your home to relax in and enjoy yourself. But for this to be a reality, conservatories need the correct heating and ventilation, to counteract the effects of the full or partial glass structure.
Conservatory Ventilation

Knowing the direction of your conservatory is very important. There are some big differences between North, South, East, and West facing conservatories. Conservatories that face North for example, will have a large amount of shade during most of the year, but during the summer, they can become very warm.
There are some products that can counteract this, like specialist reflective glass designed to reduce glare and heat, but ventilation in the roof is still essential. Without extra ventilation, the air in a conservatory can become very stale, this is because heat rises and settles in the roof area. The roof area will become a haven for insects during the summer, when the area is not properly ventilated.
It is possible to use roof vents that are operated manually, but these mean that you have to rely on using a specialist stick to push them open. The outdated method of ventilation is unappealing and too time-consuming for most, which leaves the squeaky air vents rarely used until the heat is unbearable.
A more modern solution to conservatory ventilation is electrical vents. These can be controlled by a control system attached to the wall, allowing the roof vents to be opened without hassle. Cool, fresh air, will quickly replace the stale air and allow the insects prime opportunity to escape. At Thame Double Glazing, we use specialist electrically operated motors that have a high performance and make the process of ventilating your conservatory easier. The system is incredibly secure, allowing you to vent your conservatory whilst you're not a home, by a few centimetres, without worry of somebody breaking in. A single switch can be used to control 4 vents.
When you have an electric ventilation system, you can fully air your conservatory by just opening the door, not the windows. Often, having to open the windows can be troublesome, especially if you have lots of furniture in the room. Conservatories fitted by Thame Double Glazing include multiple casements, so you can enjoy the summer breeze when relaxing in your conservatory. To optimise the ventilation in your conservatory, it is essential to allow the hot air to escape through the roof and cool air to enter through a lower point in the room.
Conservatory Heating

The heating in a conservatory needs more consideration that other areas of your home in Oxfordshire. A common recommendation is electrical heating systems, which is one possible way to heat the room.
However, opting for underfloor heating can be much more effective in a conservatory space. Breakages or leaks in the underfloor heating systems are the main concerns that homeowners often have with the modern heating method. Underfloor heating with a water system won't leak underground as there are no floor joists, meaning that problems can be dealt with in the same way as they would be with different heating systems.
A second type of underfloor heating, using electrical cables, is also a possibility. To ensure that this system works properly, the cable network has to be fully covered using screed, ensuring that the cables remain below the insulation Celotex boards on your floor. Over time, uncovered cables can begin to burn out, a process that may take around 2 years. To repair the damage, the floor must be lifted, and the screed removed to evaluate the cables beneath.
Many conservatories are designed with ceramic or stone flooring, which during the colder months can become very cold. It can be very relaxing to come home to warm floors, that you can walk barefoot on without worry, soothing the aches of a long day by just having somewhere warm to relax. Using a radiator in a conservatory means that a consistent warm atmosphere is unlikely, as radiators are very prone to creating cold spots. Rising warm air and dropping cool air, making sporadic heating ineffective in a conservatory, with cold floors and cool air. This certainly doesn't create an enjoyable atmosphere where you can relax with a drink and enjoy the wonderful benefits of your conservatory in the evening.
Conservatory Design

It is very important to make sure that the style of glazing and frames is able to enhance the appearance of your home, not detract from it. Nobody wants their new conservatory to look like it has just been thrown onto the property without thought for appearance. There are many factors that need to be considered to ensure that your conservatory matches the appearance of your home. These include the casement proportions and height, door position, roof height, and the details on the ridge.
To turn your conservatory into the perfect retreat, privacy should also be a big consideration. Blocking the view from neighbouring properties, and ensuring that your conservatory is not pressed against fences or gates, is very important to the design and privacy of the building. To make the most of the wall space in the room and ensure privacy, the height of the conservatory between the wall and the gutter should be around 2100mm.
Some conservatory retailers still suggest that fanlights should be installed on the top wall so that light is able to flood the area. As the roof is made from glass, the light will completely flood the room. This is a very outdated approach to conservatory lighting, with walls lower than 2100mm appearing like they have come straight out of the 1970's.
Instead, this reduces privacy, as low sitting frames with fanlights will allow taller people to look straight into your conservatory. Shoulder-height walls at not the best of either worlds, with the addition of obscure glass in conjunction with fanlights making the conservatory appear more like a WC than a relaxing space.
Boundary extensions built with overlooking windows are very outdated. Light should be established through alternative methods. To do this, view the conservatory like an extension to your home. A painted and plastered wall on the high side helps to make a conservatory flow. Neighbours won't trouble you, and you can truly relax.
At Thame Double Glazing, we have multiple roof structures available. These come in a choice of aluminium or uPVC, with the roof bars made from aluminium being solid in construction with an internal depth of up to 100mm, and offering both a modern and traditional appeal. You can see each design visually thanks to the specialist Thame Double Glazing fully coloured scale drawing, produced by our expert team of designers. The architectural drawings show the full elevation of the rear of your property with the addition of our suggested design.
After each discussion with you, our team will make adjustments to the design to ensure that you're happy with the look – this can involve around 3 or more different drawings to be produced. This relieves the pressure and worry of what your conservatory will look like, ensuring a perfect finish is achieved every time.
The team at Thame Double Glazing fully believe in the potential that a conservatory holds. Passionate and dedicated, we believe every conservatory should be a place to relax, have fun, and entertain guests in a space that is truly unique.
In our 20 years of experience designing and constructing conservatories, we have learnt just how to navigate the market and provide outstanding results time and time again. From the smallest elements of interior design to the lightning in a conservatory, we can help you at every stage, providing advice and putting you in contact with market leaders, able to assist in any kind of project.
Quality is never an accident, it is always the result of high intention, sincere effort, intelligent direction and skillful execution. It represents the wise choice of many alternatives'
William A Foster