Bi-Fold Doors Oxfordshire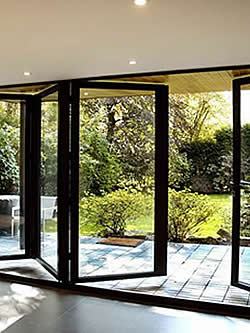 For a more relaxing home environment and increased style with full views of your garden, the Thame Double Glazing range of Visofold slide folding doors is a fantastic choice.
By opening up large areas of your Oxfordshire home to the outside, you can create a wonderful atmosphere in your home, full of light and natural views. Our range of bi-fold doors from Visofold, allow you to truly transform the look of your home. The doors are extremely versatile, able to be used in bedrooms, conservatories, living rooms, kitchens, or any other part of your home, you have endless possibilities with the beautifully designed slide folding doors.
Ideal for creating an elegant and relaxing living space, the modern design of the Visofold slide folding doors can enhance the appearance of any room. The beautiful glass façade and eye-catching curved style of the Visofold doors will even enhance your living space when closed. Then, when you open the sashes, you can fully enjoy the external charm of your home, increasing the style and atmosphere in your property.
There are a number of assurances that come as standard with all the high-quality bi-fold doors from our Visofold range. The design of the doors, with their aluminium profiles, offers security with a durability that will ensure your property is structurally safe. The incredibly long life-span of the Thame Double Glazing bi-fold doors mean that not only are they built to last, but very little maintenance is required to ensure it.
Similar products that may be of interest, include our range of garage doors, composite doors, and aluminium doors.