Gutters Oxfordshire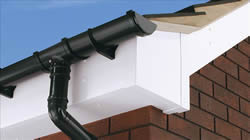 Every Oxfordshire home includes a form of guttering, it is an integral feature in all homes. A high-quality gutter is essential in the protection of your home, allowing the rain to easily drain, and not damage your home.
Without adequate guttering that stops rain going underneath your home, the water can damage the foundation of your property, and cause mould to appear on your walls.
Thame Double Glazing Oxfordshire Guttering
We have an extensive range of guttering available at Thame Double Glazing, designed to look good and be low maintenance.
Poor guttering is commonplace across the Oxfordshire area. Due to this, many homes have had to pay for additional maintenance to maintain the look of their home and stop problems from occurring, like mould, insects, rot, and rust.
Our gutters are built to last and be consistently low maintenance, coming with a full 10-year guarantee for your peace of mind.
With Thame Double Glazing guttering, you can be sure that your gutters are going to improve the look of your home, not detract from it. For many years, you can enjoy a lower maintenance with absolutely no need to paint.
There are different finishes and styles available in our range, designed to fit the style of your property. For more information about or high-quality guttering products, contact the team at Thame Double Glazing today.
Similar products that may be of interest, include our range of cladding, roofline, and bargeboards.
You might also be interested in our bargeboards, cladding or Roofline.