A-Rated Windows Oxfordshire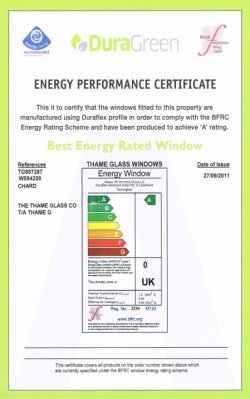 One of the best ways to save money in your home is to replace your outdated double-glazed windows and single-glazed windows with modern energy efficient A-Rated windows in Oxfordshire. Modern windows will mean that your home will require up to 20% less energy to keep it warm or cool.
No two windows operate in the same way. Despite many similarities in appearance, double-glazed windows can vary significantly from one source to another. Inefficient windows are one of the major sources of heat loss in a home, increasing the costs of heating a property. In some products, a spacer is incorporated into the design, commonly made from aluminium. This creates a thermal bridge, allowing the frame of the window to conduct heat, something that is best avoided.
The A-Rated windows we have available at Thame Double Glazing, provide an incredibly high level of performance by combining some of the best components on the market. Within the sealed unit, we use high quality Duralite and glass technology, considered to be the highest performing type of 'warm edge' spacer available. We include hinges made from stainless steel, Q-Lon type weather seals, high performance security locks, and a construction with multiple chambers in all the window profiles at Thame Double Glazing.
One way to compare our A-Rated windows with the energy rating of similar products, is to use the scheme of domestic window energy, created by the British Fenestration Rating Council. The 'Energy Saving Recommendation' is awarded to windows that have been given a rating of C or more.
Every one of our windows has been awarded at least a C rating for their energy efficient properties. This means that Thame Double Glazing windows are the best windows for energy efficiency. All you have to do is decide whether you want a window rated C, B, or A, and leave our team to take care of everything else.