Wooden Timber Windows Oxfordshire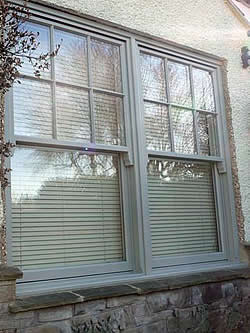 At Thame Double Glazing, we have an extensive range of timber doors and windows available. All our timber doors and windows are custom-made to fit the shape and style of your home, ensuring a top-quality product for many years.
Timber is a material that is incredibly beautiful, able to last an incredible number of years if it is taken care of. It is because of this, that we are so proud of all the doors and windows that we have available.
Each of our doors and windows have a gasket glaze, and come equipped with a drainage system that is carefully concealed in the glass rebates. Despite the modern technology, the options for ironmongery and the different sizes available for sections, create a very traditional charm.
Without extra expense on the part of our customers, each timber window frame is painted, stained, and factory finished to a very high-quality.
There is a lot more benefit to a crafted timber door or window than simply a way to fill a gap, they are incredibly eye-catching, and a statement piece for the inside and outside of your home.
What Is the Cost?
Every single one of our Thame Double Glazing products are created to match the individual requirements of your home. Final prices can only be given after an evaluation of your new product, but we always adhere to these commitments about costs:
We strive to provide high-quality at the best prices.
There will never be pressure, only assistance and advice.
A quotation that is bound will be provided, ensuring you have complete control and knowledge of the cost breakdown.
Our suggestions are based off our passion of the product, not because of the pressure to sell.
We always price competitively.
With 7 years worth of experience installing to the highest degree of quality, you can trust us to look after your home.